VEI
VEI Overview
Display and Computer Solutions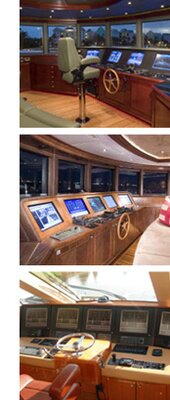 For twenty years, VEI has been proud to provide customers what we believe to be the best-quality displays, computer systems and personal service available in the boating industry. The quality of the products is made possible by the attention to detail from the start of the design process through to production and onto testing. Even today many of the products are hand built.
The standard range of displays, computers and switching devices is very comprehensive but VEI pride themselves on their ability and willingness to build custom products to order. If there's something specific you are looking for, whether it is cosmetic or technical, call or email and let us know – we probably have the solution for you and if we don't VEI can normally build it.
The range of VEI products shown here are specifically designed for marine applications including integrated bridge systems (IBS) for the following markets:
Mega Yachts and Super Yachts
Luxury Power and Sailing Yachts
Border Patrol and Naval Boats
Search & Rescue Boats
Specialist Work Boats
© Eurotask Ltd. All rights reserved   |   A website.