VEI
DM Series Monitors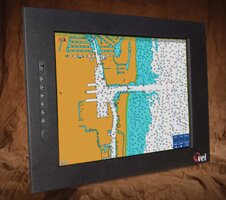 Designed specifically to meet the requirements of the modern bridge, the DM series is the latest product in the VEI range and incorporates many new features including:
Available in 12", 15", 17" and 20" variants
On Screen User Defined Softkey Menu
No scrolling through unwanted pages
9 Inputs
4 computers, 4 composite, 1

DVI

Available in SuperSunlight, Sunlight, Daylight and Pilothouse Brightness
Only specify and pay for the brightnes you need
Scratchproof, Anti Glare Glass (no film coating)
Rugged, long lasting, and able to be cleaned with normal detergents
6 Installation options
- Sealed, vented, yoke, ram, flush or reverse
- Custom removeable bezel to match your helm. Any colour, wood grain or carbon fiber
Easy Installation and Servicing
- 4 screws from the front of the monitor
Optional Touch Screen Available
Optional Remote Button Assembly
2 Years Limited Warranty
For Technical Information, click below to download the DM Series Monitors Brochure.
DM Series Specification Sheet
© Eurotask Ltd. All rights reserved   |   A website.