VEI
SSIR: Glass Bridge Controller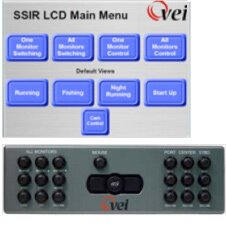 * Serial Switch Interface – A video switch controller system allowing total control of inputs to any and all displays with the easy push of a button on our Colour LCD Touch Control or Waterproof Push Button Control. The SSIR is a single, central control system that can select any system for any monitor for any location from anywhere on your boat!
A simple, central, practical solution available with a colour or B&W display.
Simply plug in the

SSIR

and immediately begin controlling everything with the easy push of a button. Work your navigation, cameras, sounders,

GPS

, internet, TV, radio and video!
The pictures opposite show an example of Custom Waterproof

SSIR

Panel with Mouse for three monitors.
For Technical Information, click here to download the SSIR Brochure.
SSIR Specification Sheet
© Eurotask Ltd. All rights reserved   |   A website.